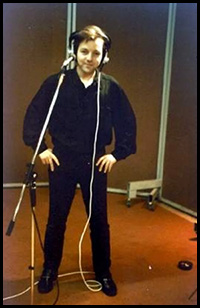 When I decided to make my first single in July 1979 it was the most exciting thing I could imagine doing. I'd been waiting impatiently for five years since writing my first song to get into a studio, but it took the encouragement of recording a double sided single with a friend (John Willans, aka Danielz of Bolan tribute band T.Rextasy) to convince me to take a chance. It was the thrill of anticipation; trying to imagine what the song that I had written on an acoustic guitar and demoed on a portable cassette recorder would sound like when played by a band in a real studio.
[I'd recorded a batch of solo acoustic demos a year or so before, but that didn't tell me what a real production would sound like]

Unfortunately, the buzz I felt when recording the vocals ("We sound like Blondie" I rashly thought!) was not captured in the finished article (the first and only Weird Strings single). It wasn't just the awful homemade 'sleeve' or the thick vinyl which didn't feel like a 7"single should, but the weedy, scrappy performance (due in no small part to John having to deputise on drums when the drummer fell asleep on his kit! (The latter had consumed a whole bottle of gin on the journey and was incapable of sitting upright, never mind playing).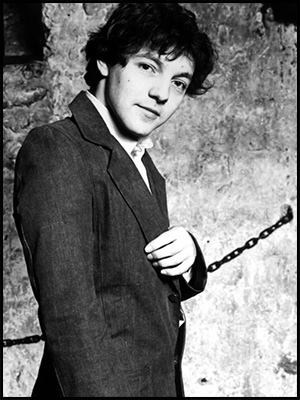 The second attempt, my first solo single, 'Public Enemy', recorded a few months later, was only a modest improvement, but when it came to record my first album, 'The Werewolf of London', that autumn, the studio provided some serious musicians and we were in business.
Despite the patchy nature of that album, I finally experienced the thrill of recording; hearing a track come together from the raw acoustic sketch and recreating some very specific sounds that I heard in my head which I wanted to replicate on the record. Much of that thrill was due to the contribution made by the 'real' musicians on that and later records, their ideas for parts and sounds which I could not have imagined. And as each instrument was added to the backing track (drums, bass, rhythm guitar and guide vocal) a sound picture emerged and was coloured in. It was sonic alchemy and it is just as thrilling 41 years later as I now create the next album, 'Morbid Beauty', in collaboration with Mick Crossley, Violet the Cannibal and David Roche.

Writing songs has never lost its magic, as I never know what is likely to come out (it's amazing how far you can go with a few chords, though I needed to learn a whole bunch of more 'unusual' sounding chords to write the M R James album a few years ago). For this new album I used the 'intro' and 'fills' from a drum machine to give me short and very different rhythm patterns to stimulate the core song and Violet noticed the difference in the new songs when I played them to her, so it had worked. I also decided that for this album I wouldn't simply give the band the finished songs and ask them to play them a certain way while also adding their own ideas, but would instead provide only the core song and ask them to treat it any way they saw fit. I also invited them to develop the songs to extend them beyond the standard 3 minutes that I favoured and thought ideal for indie 'pop'/'rock'. As a consequence, we would be equal partners in writing the songs and the album would be released under a group name and not be another Paul Roland album.

That kept me excited and added a healthy degree of the unexpected. And yesterday (21 June, 2020) I recorded the lead vocals for the first 5 songs and experienced the very same buzz I had felt back in 1979. This time it was because I added impromptu harmonies, so even I didn't know what was going to come out until I did it. I've been doing that on the last few albums that I've recorded and it means that not only is my music developing, but its still fresh and exciting to make. And hopefully that means it will be fresh and exciting to listen to. I hope you agree.
'Morbid Beauty' should be released in Spring 2021.