The Odd and Curious World of Paul Roland ['Shindig!' magazine 2019]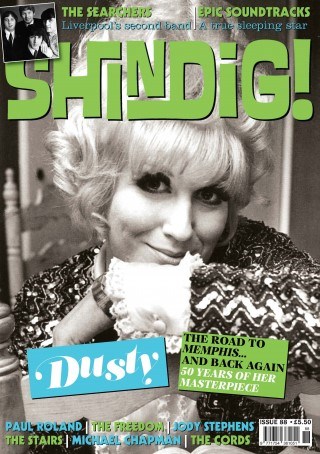 From timely appearances from Marc Bolan's ghost to songs about flying machines and English eccentrics, from being a key figure in the 80's psych underground to periodic spells of 'retirement' before reinventing himself anew, Paul Roland's career has been notably unusual.
It is 2004. The man once described by Robyn Hitchcock as 'the male Kate Bush' has returned to music after a break of almost seven years and is suffering from an uncharacteristic lack of confidence in both his songs and himself, unsure of what he still has to offer after more than twenty five years since his debut release. Once prolific and feted, time has moved on and the singer is no longer feeling assured of his ability to conjure his previously pristine psychedelic pop songs from the ether. Uncertain and racked with doubt, he glances up to see a familiar yet sidereal figure watching him from the side of the recording studio.

I had never seen a ghost, although I had written several books on the subject, so when I 'saw' an apparition in the recording studio, I didn't know what to make of it. And it wasn't just any ghost – it was Marc Bolan, my first musical hero and the artist I had always hoped would one day produce me. He had died in 1977, two years before I made my first album, but I had visited his parents shortly after his death and they had allowed me to play his guitar which may have given us this psychic connection. And a few years later I found myself managed by his widow June, so I don't think the Bolan connection was entirely coincidental.
Of course it's more than likely the 'apparition' was merely a projection of my subconscious mind. I had just returned to making music again after a 7 year break during which I had written a lot of books, and I was seriously worried whether I was doing the right thing. Then this smiling 'vision' appeared as if to reassure me. Who knows? What's important is that I had my answer.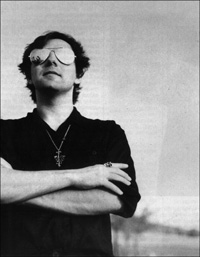 Sublime intervention perhaps; welcome to the strange and uncanny world of Paul Roland. For the last four decades this darkly psychedelic troubadour has been delving into the cobwebbed and more eerie corners of popular song, occasionally coming close to more mainstream success but seemingly more accepted and destined to thrive in the underground. Roland has experienced the peaks and troughs of a genuinely original and fascinating career, from a stellar run of critically acclaimed releases in the 80s to the lows of binning his master tapes and selling off his instruments following a number of years in the musical wilderness. He has, however, now emerged from this self-imposed exile seemingly more prolific and creatively fuelled than ever, as recent albums and a newly published biography have demonstrated.

Perhaps we have a diminutive glam rock star to thank for this; indeed the recording studio apparition was not the only time Bolan had seemingly intervened in Roland's career. June Bolan had also bequeathed Paul one of Marc's handwritten lyrics and a rare acetate single of his first recording Gloria – The Road I'm On. This was then sold to a collector so that the funds should finance the recording of (perhaps) Paul's finest offering, the baroque chamber folk of Cabinet of Curiosities. This was not simply a means of obtaining the necessary cash, but a 'magical rite. I wanted the acetate that June gave me to be transformed into my own album, in a way. I'm sure Marc would have understood the symbolism, even if collectors think me barmy!'

Not many artists consider a ritualistic transmutation the road to go down to produce their most recent album, but then Roland is no typical musician; in a parallel to his often haunted and macabre subject matter, Roland's career follows a distinctly unconventional, off beat and left hand path. A uniquely British institution, as well as being one of our most prolific and inventive artists Paul Roland is also one of our most understated, perhaps not altogether the best recognised or well-known. This is despite accolades from the likes of Frank Zappa and Greg Lake of King Crimson (who said of Roland as 'his songs are like short stories set to music, I can't understand why he has not had major success'), time spent recording with psych luminaries like the fore mentioned Robyn Hitchcock, Nick Nicely or Nick Saloman of Bevis Frond, writing songs for surviving members of the Velvet Underground and having nearly recorded an album with his personal hero Michael Nyman. Yet, whilst many readers may have heard of Paul, his story, as well as the extent of his output and sheer creativity, may well come as a surprise.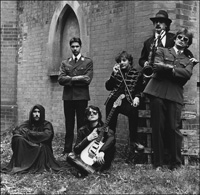 It was 1979 when the 19 year old Roland entered a small 8 track recording studio in Herne Bay, Kent to record what would be his debut single (the glam inflected new wave of Oscar Automobile), subsequently working up enough material for an album, The Werewolf Of London, which he issued under the name Midnight Rags. Whilst betraying the new wave and synth sounds and mood of the era, this initial outing did contain the seeds of the stylistic direction Roland would make his own over the following three decades, his blossoming direction being particularly honed and distilled in the violin driven Lon Chaney and the anthemic Blades of Battenburg. It also introduced him to the burgeoning paisley psych scene of the early 80s, inspiring collaborations with the likes of Robyn Hitchcock who sang backing vocals and played guitar on a couple of tracks for Roland's second album.

I had been writing songs since I was 14 and recording them with an acoustic guitar on cassette, so by the time I came to record my first album in October 1979 I felt I had served my 'apprenticeship' and was impatient to get into a real recording studio. But I was only 19 and hadn't yet found my own 'voice'. I wanted to go in so many different directions and in retrospect I should have focused on one – the goth side that had grown out of my obsession with early horror movies, particularly the Universal series of the 1930s, the Val Lewton B movies of the 40s and Mario Bava's Black Sunday, but also the American horror comics I had been reading which had deliciously macabre illustrations by the likes of Berni Wrightson. That imagery in Ghosts, The Witching Hour and House of Mystery opened a door into an imaginary world that I wanted to live in.

Nonetheless Roland persevered, displaying the driven nature that would see him navigate his way throughout the maze of the 80's underground scene and quickly establishing what felt like strong connections and promising foundations from which to launch a successful and vaulted career.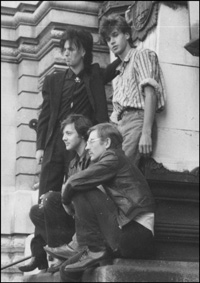 It was the peak of the DIY label boom when you could hire a studio, press your own records and take them personally to the reviewers at 'Sounds', 'Melody Maker' and the NME and also hand them personally to John Peel, if you had the nerve. I was very, very lucky to get in at the end of that and Peel played Blades of Battenburg, the opening track to that first album, several times which gave me the nerve to phone him and ask what he thought of it and if he would play it again. That was the flip side of my impatience, complete confidence, and it soon got me a management deal with David Enthoven who had handled ELP, King Crimson, Roxy Music and T.Rex, and his then partner June Bolan, widow of my hero Marc Bolan.

At this point, one of the setbacks or set of circumstances that were set to befall Roland at different points in his career intervened. However one man's drawback is another's incentive, whilst Werewolves of London is no classic it ensured Roland's name was out there and its quirky, unsettled nature garnered an initial small but dedicated fan base. The seeds of Roland's stubbornly individual approach were sown.

So I thought I was on my way, but I didn't have a band to play live. I had recorded the album with local studio session men who were in other bands. Then David and June were offered Squeeze and I found myself being offloaded to a Dutch guy who had made Joan Jett's I Love Rock and Roll a worldwide hit. If I had waited six months, I would have more songs in the same vein as Blades of Battenburg and it would have made that first album much stronger. But I was a songwriter first and wrote and recorded whatever I felt like at the time – psych pop, electro pop, folk rock etc. and it wasn't the time to be wearing too many different hats. I didn't fit neatly into a category and I guess I never have.

Indeed a rattle through Paul's song titles, lyrics and musical styles displays a variety of adopted personae and genres; from garage rock that challenges The Cramps for utter twisted mayhem, to studied string quartet accompanied numbers and dreamy psychedelic three minute pop songs. His subject matter and inspiration veers along a dark and shadowy route from Nosferatu to HP Lovecraft, via Alice in Wonderland and Edwardian eccentrics and their illicit hot air ballooning escapades. From the whimsical to the chilling to the lysergic, Roland is undoubtedly a teller of tales.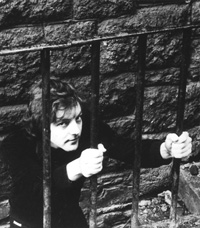 I didn't set out with the intention of making 'literate' psychpop. I just didn't see why rock lyrics should be limited to the subjects that concerned its original adolescent audience. I wanted to write graphic novels with music. Someone once called some of my more whimsically macabre songs 'Gothic rock as cartoon' and I think that's a fair summary. But I don't want to be Charles Adams all the time. I also like the idea of channelling Poe, Lovecraft and H G Wells through the medium of rock music.

These sensibilities would be more finely honed on his next project, the Burnt Orchids mini album, featuring tracks about demented pirates and ghost ships, hallucinatory travels through Cairo and a devilish puppet master the latter featuring Robyn Hitchcock. Stylistically Roland's music was transforming and refining too, acquiring a 'chamber folk' feel developed by multi tracking his violin or cello player's individual takes in the absence of an actual string quartet. This approach, often interspersed with more guitar led psych stompers, has become an almost trademark Roland 'sound'. Reviewers have at times heard the essence of Syd Barrett in his compositions, an occasional smidgen of Left Banke, a helping of Bolan and a seasoning of Moody Blues.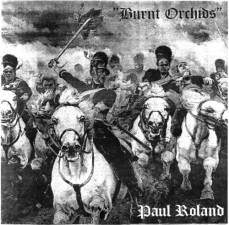 Burnt Orchids was a critical, if not commercial success, its twisted, textured psych pop garnering some much needed attention and prepared the path for arguably Roland's purple patch of 1986 and 87, which included the perfect psych pop single Gabrielle and the expansive, richly detailed and finely hued Danse Macabre album. Both furthered his collection of lyrical oddities and his musical palette, The Great Edwardian Air Raid's languid but dense strings, the dark, swirling psychedelia of In the Opium Den, the acoustic pomp of Madame Guillotine and a sympathetic cover of the Floyd's Mathilda Mother. Only mere months afterwards there followed the string quartet accompanied mini album Cabinet of Curiosities, brimming with of tales of eccentricity and the occult. Tracks such as Wyndham Hill (about an errant Edwardian inventor and the first flight of his prototype winged machine, the title paying homage to sci-fi writer John Wyndham) were perfectly formed psych jewels, a hint of the baroque in their strings and orchestration and yet also something identifiably unique in Roland's macabre storytelling and distinctive vocals. Cabinet also featured, of all things, a successful chamber folk interpretation of The Adverts Gary Gilmore's Eyes, replete with spinet and pizzicatos, ostensibly about an organ donor transplant patient wakening from an operation to find he had been given the serial killer's peepers.


Like a man possessed and in a state of prolific hyperactivity, Roland then followed this up with yet another mini album in the same chamber style, Happy Families, this time attributed to Paul Roland and the Wyndham Hill Ensemble. Not unlike Edith Sitwell's book of English eccentrics set to music, characters such as the misguided Curate of Cheltenham, the kleptomaniac Aunty and Cousin Emilia populated the songs with their own strange and bizarre stories. One observant reviewer stated 'Roland is at his most humorous and most eloquent – the stories await discovery like long forgotten screenplays for Ealing comedies or Agatha Christie murder mysteries'.

It never occurred to me that my degree of productivity was anything unusual. I could write songs all day, every day if I didn't have other commitments such as writing books, magazine features and reviews. It's not something that requires any effort. The difficult part is finding a suitable theme and lyrics to match the music, although with both Happy Families and Bitter and Twisted (two contrasting albums at either end of my 'career', if you want to call it that) the lyrics came first because they were humorous and I always find being morbidly funny comes much easier.
Happy Families was an acoustic mini album recorded with a small woodwind and string ensemble and was based on the lives of real English eccentrics who lived in the Victorian and Edwardian era. That was perhaps the most enjoyable album to make because the lyrics came so effortlessly and also because performing with a string and wind quartet had been one of my dreams since I began writing songs in '74. That kind of instrumentation evokes a particular period for me but also a timeless world where my characters exist. Finding the most suitable instruments to conjure up the characters and also the period are two elements that help me to create the soundtrack to the movies I see in my mind.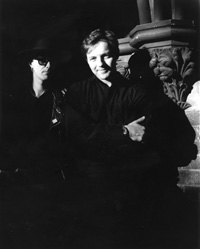 Roland's next long player would prove his most ambitious to date; 1989's Duel, a conceptual and themed album based upon a story of a crumbling medieval kingdom, would add a harder edged guitar sound to befit the dramatic subject matter (which also later appeared as a novella). The strings, acoustic guitar and flutes remained however, creating a hybrid prog folk sound that would just as easily appeal to those partial to a bit of Jethro Tull or King Crimson as those ensconced in The Left Banke or Syd Barrett. The dreamy psychedelia still raised its head with the effervescent lead single Alice's House and the demented Victoriana was represented by Springheeled Jack and The Crimes of Dr Cream (a real life physician notorious for both blackmailing and poisoning). A sizable success, not least in both Italy and Greece, countries which took (and continue to take) Paul to their hearts, a particularly enthusiastic review noted ' If Will Shakespeare, Charles Dickens or Arthur Conan Doyle were around today, they'd surely have some Roland in their record collections. Unfortunately, they're dead - what's your excuse?'

Roland was fast developing a reputation as a storyteller and a songwriter of a distinctly bookish bent. His songs promised much more than the standard girl meets boy fare or kitchen sink rhyming couplets of the contemporary indie scene; there were entire worlds and tales inside Roland's work; characters, curios and a genuine sense of the otherworldly.

I wrote short stories as a child and then fanciful poetry in the manner of Bolan's 'Warlock of Love' which was akin to 'Lord of the Rings' in verse but very obtuse and rather pretentious, though I didn't see it as such at the time! But it inspired me and soon I was setting these poems to music and trying to convey the essence of the story and the characters in 3 minutes, which I felt was the ideal length for a song, having grown up with glam rock. I still try to be concise and get to the point as soon as possible.

Another mid-career triumph emerged in Masque, whereupon Roland chose to focus on the regency period and revert to a refined acoustic psych pop sound with occasional forays into lysergic folk such as the Ambrose Bierce inspired I Dreamt I Stood upon the Scaffold and the eerie pop of Candy Says, about a young girl's invisible friend. However, exhaustion was beginning to set in, the recording, release and touring schedule starting to impact upon Roland. A further album Roaring Boys met with mixed reception, its follow up, the cover versions mini album Strychnine, also struggled to maintain his previous benchmark of quality and contains some rare missteps amongst more successful cover versions of the Electric Prunes Too Much to Dream and Kevin Ayres Lady Rachel. Label worries too, were taking their toll and after the disappointing Sarabande (also Roland's least favourite of his albums though not without some standout tracks and some blistering guitar work by Bevis Frond's Nick Saloman) and its bleak and downbeat follow up Gargoyles, something had to give. Gargoyles itself, despite being a strong suit of songs, failed to maintain its predecessor's momentum or media interest probably because Roland had released it on his own tiny label and didn't have the means of promoting it effectively. Erstwhile supporters in the music press had moved on or hung up their pens and, in an age where dance music was the dominant musical form, distributors were failing to provide any real impetus or enthusiasm for the work of a psych singer songwriter. A significant low was the occasion one German firm sent Paul back a pile of unsold live albums but removed the sleeves to save themselves the extra postage costs. Things were about as disheartening as they could get and, motivation crippled and personally despondent, Roland reluctantly decided to quit, putting away his dreams, scrapping his master tapes and selling his instruments in the process.

It got to the point where I had released too many albums, as far as the 'market' saw it, and I had been 'over exposed!' But I couldn't stop writing songs and recording and had no one to advise me to slow down or be more selective and sit on tracks for a while to see if I felt different about them after a few months. I never had a real manager. By the early 90s the labels were experiencing difficulties and closed down because there was more money in organizing gigs or they sold out to major record chains and I was left without a label. I was cut off from my fans and the press and radio in those countries. So I turned to writing (non-fiction) books and reviewing for magazines which I had been doing on a pretty regular basis since the early 80s when I wrote for 'Kerrang!' and various film magazines. I accepted that I had enjoyed a good run and assumed that I would put all my creative energy into writing books which was satisfying, but something was missing. For seven years I felt something had died inside me, but I couldn't muster up the enthusiasm to listen to my old records or touch an instrument. I sold my instruments and threw my master tapes and multi-track reels in the bin.

And as far as the music buying public were concerned, that was it for the next seven years. Roland however was not idle, the protagonists in his songs knowing just what the devil can do with idle hands. Raising his two young sons and focusing on his increasingly successful writing career (which now accounts for over a dozen books written on the occult, as well as music biographies, Roland's interest in esoteric hidden knowledge now perversely aligning him with some of the characters from his songs). Roland however still felt that without his muse he often felt like a 'dead man walking'. A chance offer to play a German festival awoke something that he had long considered closed and over. Reading some of the letters he had received from fans over the years and listening back to some of his own albums again, suddenly things began to feel possible again. A compilation album, Gaslight Tales, was to be issued on a French label and suddenly the interest in Roland's music was stirring once again.

Curiosity got the better of me. I looked out those old records and listened to them. Now I could hear what worked and what didn't work so well. I could hear myself as others heard me and that was a very revealing and valuable experience. I had also become a better writer as a result of writing 25 books and so when I picked up a guitar again I wrote with a new maturity and perhaps most important of all, I refused to release anything I had recorded until I had set it aside for a few weeks or even months and only when I knew that I had everything perfect, did I release it.
The old labels had long gone, so I released everything on my own label, Gaslight Records, and found a promotion agency in Germany to get the reviews and radio play until a number of new labels approached me and then things got really interesting!

A new offering, Pavane, was planned but the singer was hesitant and lacking confidence, that is until the previously mentioned ghost of Marc Bolan intervened. The finished recording, a fully rounded and successful Paul Roland album, resurrected many key styles including the familiar baroque touches; harpsichords and oboes permeate, as does a new influence, that of classical composer Michael Nyman, perhaps best known for his film scores with Peter Greenaway.

Nyman had offered to write an arrangement for me based on one of my themes back in the 1980s, and I stupidly hadn't accepted his offer because I was afraid he might not like my music enough and that would have been a cruel blow as he is my favourite composer.

Other releases followed, inspired and re-energised, the HP Lovecraft influenced Re-animator, featuring members of Canterbury proggers Caravan, and Nevermore, which contains nods to not only Poe but Jules Verne. More recently, 2011's Grimm was played entirely by Roland himself and focused on the Brothers Grimm's darkest fairy tales. Roland's recent oeuvre has also seen him tackling garage psych with a fervour and an appreciation for the grotesque and bizarre that either The Cramps or The Meteors would approve of. Further work is imminent, with Roland showing no signs of relaxing into a gentle autumn career or the nostalgia circuit.

I was asked what I would like to create next and that was an album of narrative extended songs based on the short stories by England's most celebrated writer of ghost stories M.R. James. It would be essentially an acoustic album with sparse orchestration played by a chamber ensemble who had worked with Frank Zappa.
From there it was one leap of faith on my part and also on the part of the label to allow me to write a 30 minute piece for a full size orchestra, my first attempt at such a thing. 'A Grimm Little Fantasy For Orchestra' will be performed and recorded in the last week of January 2019 and released in the spring together with 'The Nosferatu Variations', music for a dance drama, or ballet if you prefer, based on my song of the same name. I have also written my first string quartet for a well-known Italian quartet who I hope to be performing and recording with in the future, so this is the direction I am exploring at the moment and it offers infinite possibilities; a hybrid of rock and classical music that integrates both without compromising either. I guess I'm just a late developer!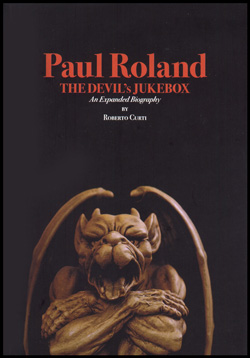 Latterly Roland has also found himself hailed as a major influence on the burgeoning Steampunk movement, his narrative tales of wyrd Victoriana and Edwardian airships resonating with a whole new audience. At the same time he has found himself welcomed into both the current psych and goth scenes, with many younger fans delving into his extensive and eclectic back catalogue. An extensive biography, Robert Curti's comprehensive The Devil's Jukebox, emerged in 2018 and Roland himself was recently featured being interviewed on a Bolan documentary commissioned by BBC4.

I have always imagined that my music 'matters' to somebody, somewhere and that has been my primary motivation. It doesn't matter to me whether it sells a hundred, a thousand or ten thousand copies. It has never been a question of commercial success, as that is dependent on so many other factors and very rarely on the quality of the work!
I don't distinguish between writing lyrics and writing books and I don't consider either as 'work'. A lot of time and energy goes into both, but I have a compulsion to write and it pleases me to do so. I'd rather write than do anything else. I had no eye on posterity, I had no intention to be categorized as 'goth', 'psychpop' or steampunk, nor did I imagine that I might be influencing or inspiring others, but only recently I was told that I had given another artist the idea that 'pop' songs don't have to be about the standard themes and that gratified me enormously.

Paul Roland then is not your average singer songwriter; he goes where the ghosts, the freaks and the bizarre inhabit, perhaps feeling quite at home there. His oeuvre, documenting those liminal spaces and curiosities however, is there for anyone who wishes to partake. Never dull, never ordinary, Paul Roland's cabinet is always filled with curiosities.

[Ends]